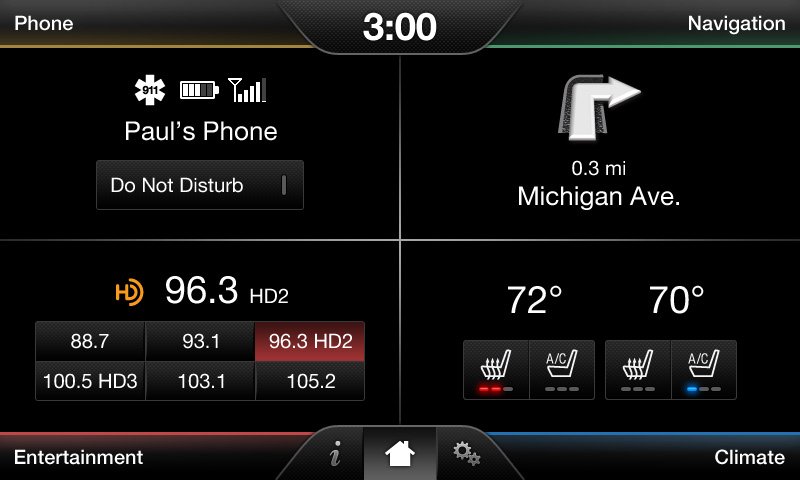 Call or e-mail us to learn about the [MyFordTouch_Home-screen12111.jpg] latest upgrades & enhancements to Ford's SYNC & MyFord Touch products!
McFarland Ford strongly recommends bringing your vehicle by our service department to ensure a successful upgrade process.
We're pleased to announce the release of the PERFORMANCE UPGRADE software for 2011/2012 MY Edge, MKX, Explorer and 2012 Focus vehicles equipped with MyFord/My Lincoln Touch. The successful implementation of the MyFord Touch/MyLincoln Touch (MFT/MLT) PERFORMANCE UPGRADE (FSA# 11A01/11A02/11A03) is important to our customers and our dealers.  Your active involvement in the responsibilities listed below will help ensure the PERFORMANCE UPGRADE is successful.
PERFORMANCE UPGRADE BENEFITS
The MyFord/MyLincoln Touch PERFORMANCE UPGRADE provides owners with simpler graphics, faster touch-screen response, easier-to-use controls, easier-to-read fonts, enhanced voice recognition, and improved navigation maps.  In addition, successful completion of the PERFORMANCE UPGRADE extends the coverage on the SYNC module to four years (five years for Lincoln) from the warranty start date of the vehicle (unlimited mileage). This coverage exceeds the original warranty coverage provisions for the SYNC module.
ELIGIBLE VEHICLES
2011/2012 MY Edge, MKX, Explorer, and 2012 Focus equipped with MyFord Touch/MyLincoln Touch are eligible to receive the PERFORMANCE UPGRADE at no cost.  All 2013 MY vehicles will come equipped with the latest software system from the factory.